You might think that people who live in the country always have a little time to spare. Unlike stressed city dwellers. In fact, Ernestina and I had to make a great effort to do our interviews, because our chosen interviewees were very, very busy. In addition to the many daily chores, there were the intensive preparations for the funeral, the many sleeping guests and the visits to several funerals in the vicinity.
I actually wondered how it was that many of the family, especially the elders, but also Titus and younger ones often went to funeral services in Nandom, Fielmon or other neighboring villages and homesteads. I thought, hmm, maybe some Corona victims after all? Then, finally, the paper penny dropped with me: Since, after all, many relatives live in cities and regions, some in other countries, many funerals don't take place until many months later, so that everyone has a chance to come. So the deceased stay in cold storage until then their burial takes place.
The Christmas season is anyway the time when families come together. Even for those who do not belong to any church, it is the time of fellowship, when the Bagri Festival is also held in Jirapa, Lawra and Nandom, in the whole Upperwest region. Everyone finally gets together, neighbours visit each other, millet beer is drunk, food is eaten together and news is exchanged. After Christmas, there is dancing, singing and drumming. I already know it from 2019 that the xylophones are also put in shape and put to a lot of use. This year, the delicate instruments have long been repaired and retuned. Bagri, for those who worship ancestors and belong to the nature religion, is a cult that is believed to have the power to "cleanse" the earth and the people again. Above all, it is great fun.
The calabashes, which give the xylophone its sound through sealed small holes, are often spoiled. The thin membranes must always be tight, hence the lengthy repairs. Titus told me that often kids just Titus told me that children often drill their fingers into them for fun …
The first person we were able to interview was Dery Aadaryeb: he is now the eldest of the extended family and Titus' direct cousin. It's hard to estimate how old Dery is. Certainly in his mid to late 70s. He lives in a homestead with his two wives Lucilla and Olivia and his offspring just a few hundred metres away. Like most of the elders in the family, these three family members do not speak English and never went to school. Ernestina asked the questions in Dagara and then translated the answers to me one-to-one in English.
Dery has been a farmer all his life. But he too migrated seasonally at a young age, living for a time all the way south like many other younger Dagara. Eventually he had to return home to help his father Lanidune on the farm when he could no longer manage the work alone.
The interview situation was very relaxed. Dery felt that neither of us was pushy. That was important to us. Overall, a familiarity and closeness quickly built up: after all, I'm not a stranger here, and that certainly accounts for the quality of our research. As we talk to Dery, Baaba, a half-brother of Titus, joins us. He listens, and from time to time he contributes. Especially on the subject of agriculture. That makes the conversation all the more exciting.
I could not take my eyes off this still life "Posters and Chairs". The ensemble magically attracted me the whole time. Baaba is one of Kuuyuour's younger generation descendants who continue to live as subsistence farmers here in the north.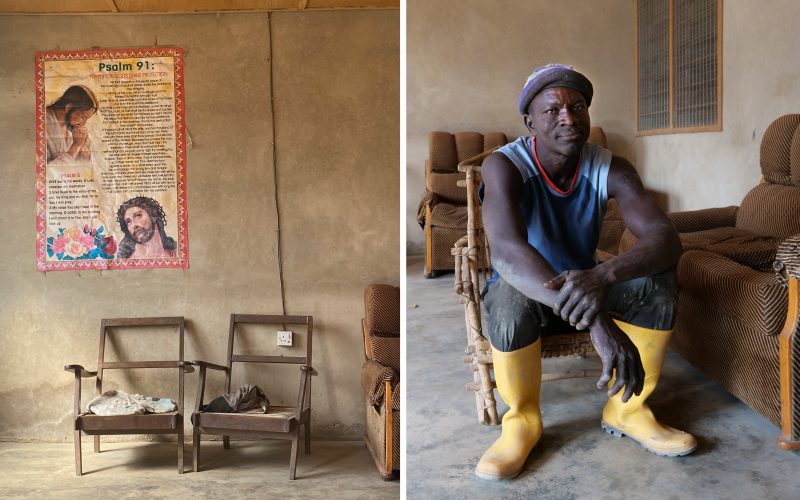 We spoke to Lucilla right afterwards because she happened to have time. She is Dery's first wife and has four children with him, but they all no longer live and work here. At that time, 32 years ago, she was the only Christian in the family and still remembers well how we both walked to church together on Sundays. I was very touched that she still had so many memories of the time of my fieldwork. She remembered exactly what she had cooked for me. She firmly believed that I had saved her life with a medicine. In fact, she was very sick and I was able to help her with antibiotics.
Ernestina and I always went through all the question guides I had prepared, partly already in Berlin, then in Accra, again together. We openly discussed with each other what information we would like to collect and with what goal. It is very special that I know many of the members of her extended Kuuyuour family – especially the older ones who lived here in 1989 – better than she does through my stay as well as through the many interviews from back then. That makes it exciting: how will Ernestina take everything that is told? What will she think of it? There are four focal points: Life story, family, education and agriculture. We were also asked about changes, visions and happiness. What was exciting was that neither of us had ever experienced a large funeral, as had her siblings and many of her cousins from the city. So over these many days of preparation for the funeral, the curiosity, the excitement grew in all of us.
My office. Outdoor and simply furnished! The good thing was that in the dry season, mosquitoes never flew around me. And I always had all kinds of distractions during a pause for thoughts, whether animals, children, women shouting something to each other across the yard … Quarrelling cocks that I could watch fighting over a hen … So many wonderful still life that captivated me. Just no internet. But I didn't find it dramatic at all, rather soothing.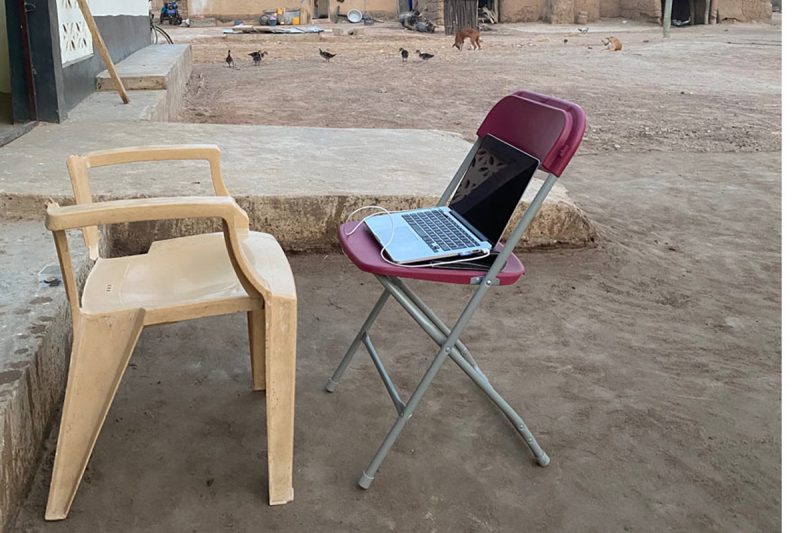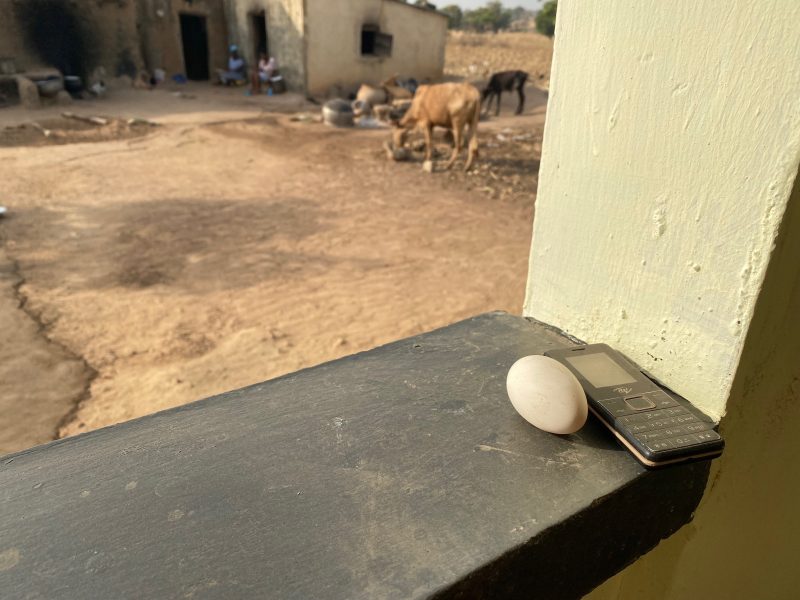 Our third interlocutor was Ernestina's father, Zumeh Kuuyuour. He lived and had a large farm until a few years ago in southern Ghana, in the Afram Plains, but then moved back to Hiineteng to live again with his wife Janet and mother of Ernestina. She had returned to the north years earlier. So she had the opportunity to consider her questions, to change others.
We had to disturb Zumeh during his nap in his new chair and ask him to come inside. This was the only way to have a reasonably trouble-free interview. I was completely in love with this chair, to me it looked like something from the 1920s, Bauhaus style. I would have loved to have packed it up and taken it home.
We interviewd Zumeh in his new house, where the hut once stood in which I had taken a room in 1989. In 2019 it was only a ruin. Now there is an imposing brick building with four rooms. One of them serves as a living room and meeting place for the family council, among other things. The room is empty except for a heavy set of couches and a narrow bench with dishes. The style of the seating furniture is similar throughout the country; in Accra, it can even be bought at the roadside.
I experimented with technology, e.g. recording the interivew with the iPhone or Lumix and the recorder. Then I gave it up because I thought: No, I'm not a professional audio-slide-video-storyteller yet. It was too exhausting for me, all at once. It was better to concentrate on the stories. There are maize and millet on the table, Zumeh showed them to us to describe what the farmers grow and harvest here. After the interview, Zumeh puts on festive clothes – the smock – shines his shoes and has his picture taken in the big armchair. But because the light is nicer outside, we also took another photo in front of his house.
We were also able to lure Ernestina's mother, whose Christian name is Janet, out of her house, although she was busy. She lives in her own four walls, like all the women in the homestead. The men always have their own huts or houses. She has six children with Zumeh. Two sons, four daughters. The youngest is 16 years old.
After Zumeh and Janet, we grabbed Sornyine, the next Kuuyuour brother in line: Francis is his Christian name, Sornyine is his Dagara name. We managed to do a total of 14 interviews by the time of the funeral, all of which were about an hour long. We sat together with some of those I had already interviewed in 1989. And now with their children, family members from Ernestina's generation.
We were soon able to persuade Nuo to take a break. She was sitting on the ground at her house and was finishing a straw mat. Earlier, she had also helped for a long time to tamp down the courtyard floor. In the background, her grandsons and granddaughters lie listening to what we ask Nuo and what she has to tell. Nuo, the second wife of Titu's father, is probably the oldest of the women and of the family as a whole. She is certainly over 80 years old. Sometimes she walks around the yard with a long stick, sometimes without. One thing is certain: she still works everywhere. Even when the women repaved the ground, she helped for hours and only allowed herself a bowl of millet beer during the break. Talking to her was very important because she could describe well how the funeral would take place, how life was when she was younger.
Cynthia, Sornyine and Aayarkum's daughter, was the youngest of our interviewees with her 18 years of age, and she was busy throughout the day: Fetching water, cooking, passing the food or millet beer, helping to renew the soil, looking after children … Never a dull moment. She was often very tired.
Erenstina and Cynthia take a short break together after the interview. Cynthia has great trust in her cousin, even though they don't know each other that well or have lived together in one place. What they tell each other, I don't know. They speak Dagara to each other. It is a very beautiful, peaceful sight in my room. Although there is a lot of activity outside because of the preparations for the funeral.
We also had to persuade Cynthia's mother Aayarkum to take time for an interview. She was busy weaving or making the basket that will serve as an ornament for her mother-in-law's funeral.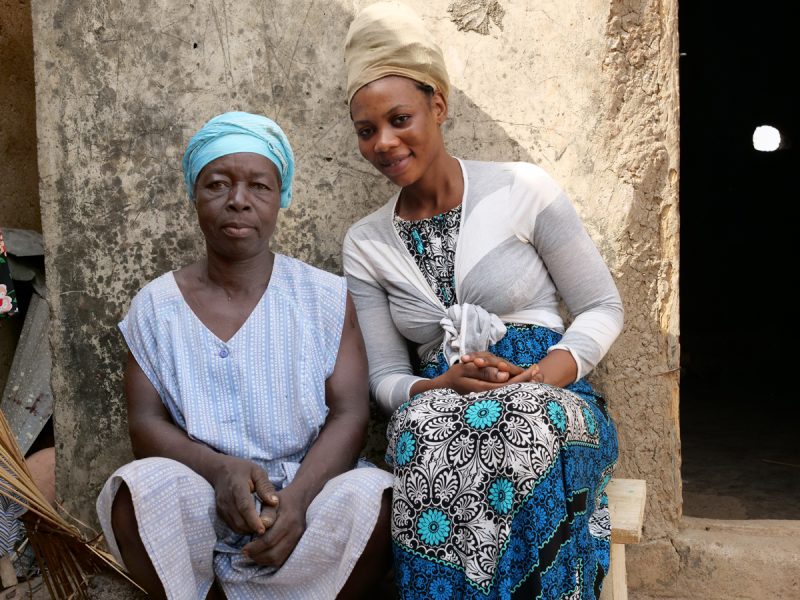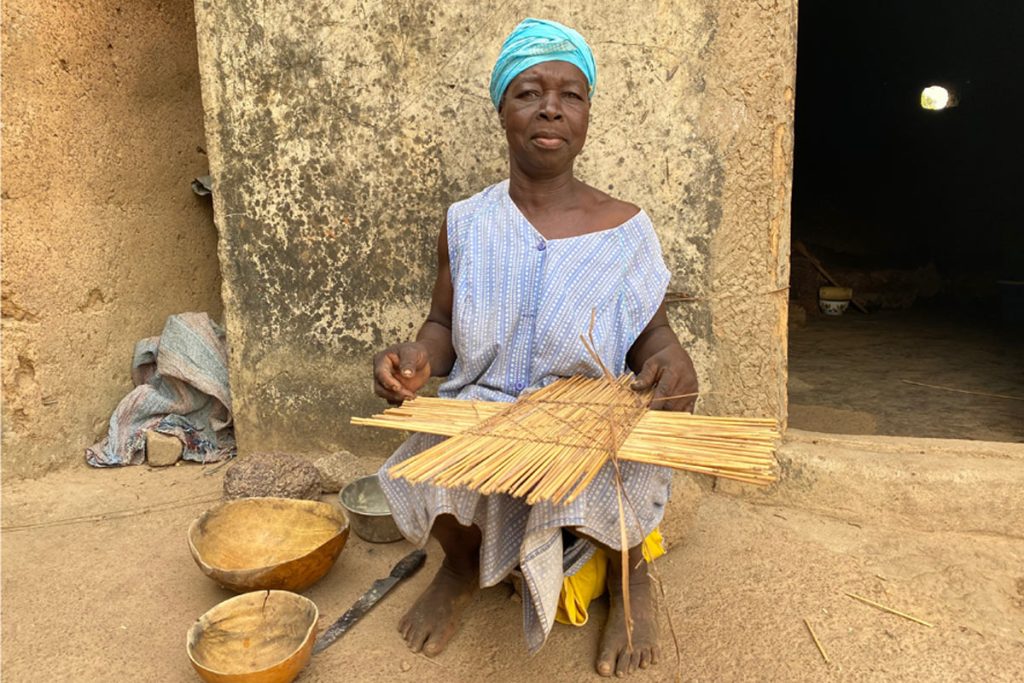 I was then able to talk to Ernestina and finally Titus in Accra only one day before my departure, at 6 am. A person with little time and always busy … Not only before a funeral. Also in Accra, because there he has to do everything in a very short time before flying back to Harare and not coming back anytime soon. The UN transferred him from Ethiopia to Zimbabwe in 2020, which he was noticeably happy about. Life in Adis Ababa was probably not so easy. I will certainly want to write a separate post on his life and vision. Patience, please.
We have 16 interviews, two of which Ernestina has already transcribed (thanks for that!). I have a folder with photos and one with video recordings for each day in the village and then for Accra … I-Phone and big camera … Still sound recording atmo … It will take time, dear readers, until this beautiful, colourful and moving mountain, if not a mountain of material, can appear before you as a panorama. In addition, I still have the more than 20 cassettes with the analogue recorded conversations from 1989 … Goal: these are to be digitised. Vision: The blog will be continuously maintained and updated with the latest family events. A book will be created to replace my master's thesis, which was designed with photos and translated into English. A kind of living family biography. After all, we did not work scientifically, but rather journalistically and very familiarly! The freestyle will be either a photo exhibition and/or a thick photo book. I am curious myself!
At the moment, I'm very concerned with what role I actually have or want to take on. What am I allowed to show, what am I allowed to write? It is by no means a matter of course for me. I need time for that too – for an examination of myself and a dialogue with Titus, Ernestina and others from the family. What is too personal? What is suitable for the public? What remains foreign, what is familiar? These are questions that concern all ethnologists.