About marches, a market day and much more
I am walking to the market in the early afternoon when suddenly a Harmatan wind gust catches me: Lots of dust! I was the dust! A bit spooky, this whirlwind. I had already walked a good three kilometres from the homestead when Baba and Vitalis, two nephews of Titus, overtake me on a moped and recognise me at once – no wonder. I am the only white person here far and wide. The three of us ride close together on the short seat for the last three kilometres to Fielmon. It's a relief to feel the wind.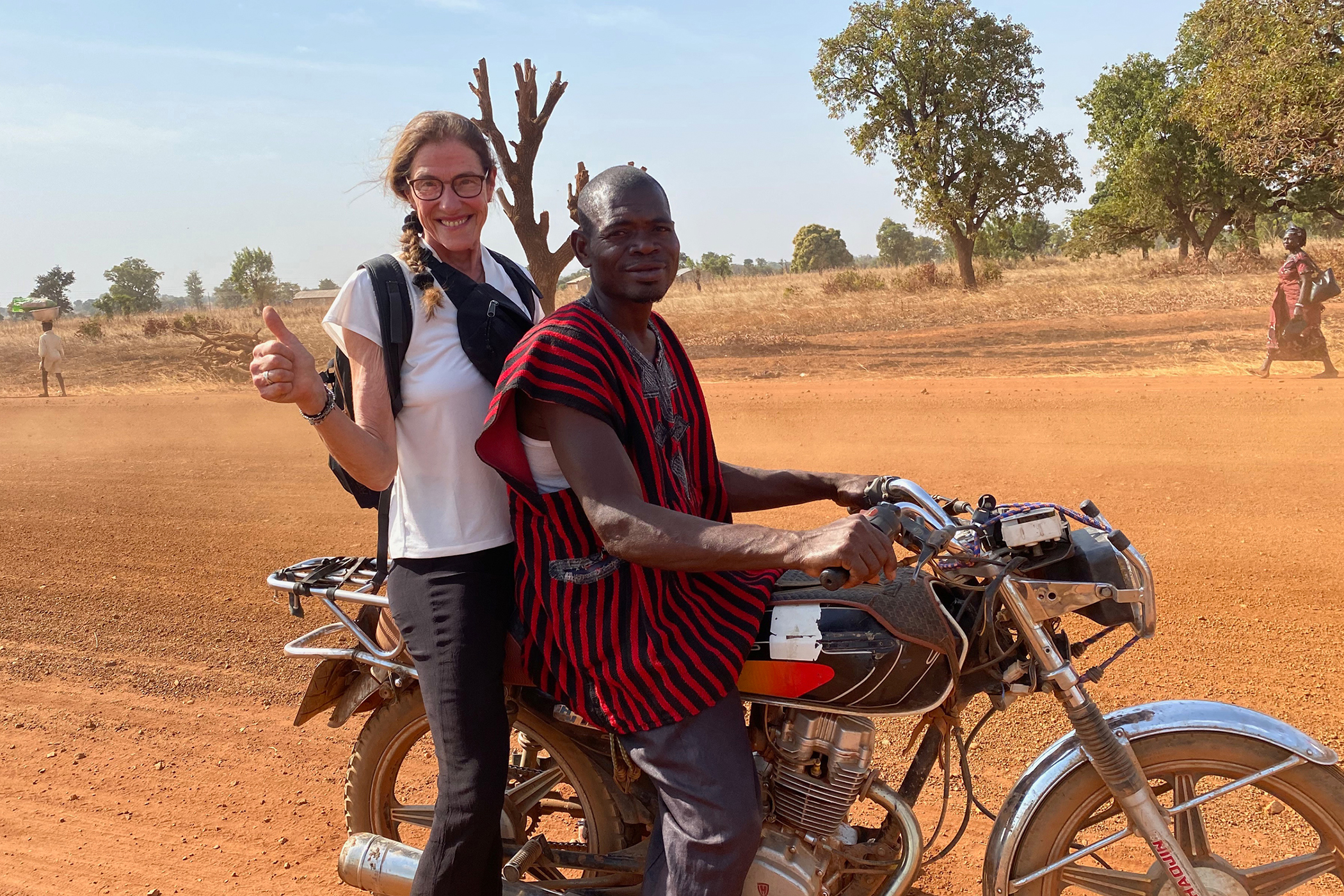 Dense crowds at the market in the small village, which takes place every five days. For me, after four days of being with only a few people on the homestead, almost only interviewing and photographing or filming, it almost triggers a city feeling – so many people! There are noticeably more locals from Burkina Faso in Fielmon, as the border is only a stone's throw away. Noticeably more shop assistants and customers are Muslim. There are also mosques in Fielmon now. Thirty years ago there was not a single one. Many women wear headscarves and long dresses. In Ghana, about 18 percent profess Islam, between 60 and 70 percent Christianity (but there are countless African churches), and about 22 percent of the people believe in traditional religions (according to Wikipedia).
Hardly anyone wears a mask. Even I forgot to put one on at first. No wonder: since I've been in Ghana, I don't listen to the radio, read Twitter or watch the news. Corona has moved far away – stayed somewhere in Berlin. Hasn't been packed!
At no point during my three weeks in the country was I able to assess the state of the pandemic in Ghana. I can't listen to the radio or do any research on the internet, and no one around me knows for sure. It is only Titus, his wife Irene and his son Ransford who wear surgical masks when they leave the homestead. Ransford said that Africa, and therefore Ghana, had experienced and overcome Ebola, and that Corona was no big deal. The Ebola pandemic broke out in several West African countries in 2014 and was not overcome until early 2016. West African populations would have adjusted quickly to the pandemic during the first lockdown. In Ghana, by the way, a Chinese vaccine is being used. Ransford reports about a teacher at his school who went to China for a job. He had to stay in quarantine for a fortnight and basically this time was like a prison stay. He is simply not allowed out and is served his food through a slit … Somewhere in China. Ransford says something very true: when you suffer, someone at the other end always benefits from your suffering. So it would be with the effects of the Corona pandemic, there would certainly be people who would have no interest at all in an end to the pandemic, because they would make quite good money from it. It was actually the first and last time I talked about Corona in the homestead.
Back to the market bustle, where I meet Ernestina and her sister Eunice and sister-in-law sitting in the shade. They are munching on Cosí, fried cakes made from bean flour. Extremely tasty and crispy. A large bowl costs only five Ghana Cedis, not even one Euro, and that almost fills four people.
The market sells just about everything that people need for their daily needs, even tools for farming or bike repair, pots and pans and plastic dishes galore. There is electricity and even internet, motorbikes parked everywhere, tricycles used as taxis or mini-trucks and bicycles on the side. Many women sell iced water, ginger drinks or soft drinks. Even though the market looks chaotic, everything has its order: in one row only cereals – mainly rice, maize and millet – and many, many peanuts. In the next aisle, onions without end. Here and there leafy vegetables and there oranges, pineapples and maybe avocados, mangoes (but it is not the season in December). Then we follow the smells of spices to turn into the street of beans in every shape and colour. Paradise for me in parallel: lots of tomatoes. Then we find the stalls with noodles, oil, soap and fabrics as well as new and used clothes. Many, many bags with quite funny prints hang everywhere and turn in the wind. In short: a shopper's paradise for everything from A to Z.
Compared to 1989, the market has expanded like crazy. I remember the few stalls that offered only narrow strips of shade and advertised equally "narrow" goods. Most of it was on plastic sheets for sale. I remember being amazed that even tomatoes were scarce, onions lay in pathetic heaps. Finding powdered milk or Nescafé was a sensation. I usually had to buy it at the Sunday market in Nandom, where it was always a big market day on Sundays. There I stocked up on oatmeal and cigarettes (I was still a heavy smoker then!). I was all the more surprised one day when I saw a shiny new Aldi bag for sale at a stall, into which I fantasised about cheese, dark bread, chocolate and wine.
Surely these bags had found their way to Upper West Ghana with one of the many young Ghanaians in a van bought as cheaply as possible. He had probably been able to buy it in Germany after years of – perhaps illegal – residence. Many of these young men were and are called "burgers" in Ghana because they mostly lived and still live in Hamburg, work in the harbour or on construction sites, and then can afford a big second-hand car, load it up with plastic bags or other durable goods and ship everything as a giant package to Ghana or cover the long distance to Ghana and through the desert themselves. Most of the trottos (large-capacity taxis) that drive around Ghana come from Europe. Many from Germany, Holland and England.
Finally, my shopping fit nicely into a backpack: five plastic pots of local, ujdn delicious peanut butter for 15 cedis. a few tomatoes for around two cedis. Nothing more. The others had bought a sleeping mat, lots of leafy vegetables and tomatoes too. We slowly made our way back to cover the good six kilometre walk before sunset. In a rather spontaneously set up "pub" I invite my three companions to drink something cool with me: beer and Maltaguiness. It tastes even better here in the dusty north than in Accra or Berlin.
We are hardly seated when an older lady in a beautiful dress joins us and immediately starts a conversation with Eunice next to her. Where did I come from, she asks in Dagara, "That white girl there." Eunice explains that I'm Kuuyuor's daughter, who came all the way from Germany for the funeral. "Oh, a white daughter," the woman marvels, stands up and stands in front of me, "Then you are my niece, because I am a relative of Pigr." I am amazed as to why I have a niece who is much older than me … The four of us laugh a lot on the way home and are sure that everyone in the village and beyond will soon know that Kuuyuour has a white daughter. My pub bill for two large beers (there are almost only 1 litre bottles in Ghana) and two Maltaguiness is only 20 Cedis, about 3.33 Euros. I find it cheap, but certainly expensive for locals.
After all, a monthly average income is around 330 euros (source), but there are also figures that say it's only 2,049 euros a year, or 270 euros a month, (source). Or figures like this: A teacher earns only 100 euros per month, a doctor (entry-level salary) around 670 euros per month, and the rent for a two-room flat e.g. outside city centres between 50 and 80 euros, but in the city centre 662 euros (source among others is a blog of a student from Germany who did an internship in Accra here ). The main problem with the rents is that they have to be paid one to two years in advance. Hardly manageable for many. In short: It is not easy to find the balance between income and expenditure in a country like Ghana.
On the way home, we pass large posters announcing the funerals of a woman and a man on the road in front of the homestead of the chief of Fielmon. The many bikes, mopeds and cars testify to the fact that the funeral is big and many mourners have come. Eunice explains to Ernestina and me that respectable people must have died, so many mourners. She also suspects that her grandmother Pigr's funeral would be similarly large. She had lived to a very old age (reportedly 107 years), she said. "We are allowed to mourn and be sad, to cry and lament, but we also have to celebrate life," she says, "to sing and dance." I'm starting to think that there will be around 500 people at the three-day funeral.
We slowly walk the 6 km back home. It is a wonderful sunset. Silence. The four of us laugh and gossip a lot. Ernestina complains that she has to walk far too much and begins to take funny videoclips.
Here are some other impressions of my market day in Fielmon.